Sir George Frederick Still (1868-1 941)
George Frederick Still was England's first professor of childhood medicine. He loved children, but generally could not stand their mothers. His sister in law once said: "He loved children, but with the exception of his own mother and the Queen, I never heard him utter a favourable word on mothers in general."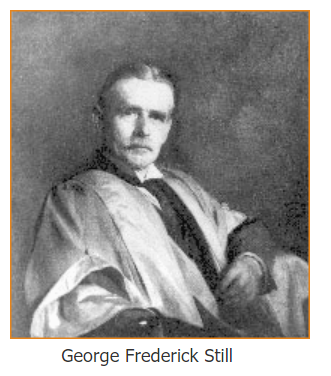 He was born in Highbury, a northern middle class suburb of London. His father was a surveyor for HM Customs in ports of Dublin and London. His mother Emma came from Cornwall and enjoyed some reputation for her knowledge of horses. His parents had met in Dublin, but all of their twelve children were born in London. Four of them died in infancy, one sister died at age 18. George was the only surviving son. His sister Edith was educated in Oxford and became the first woman to be graduated at the prestigious University of Heidelberg.
His father died when George was 17 years of age, resulting in an economic crisis in the family. He received a scholarship enabling him to study at Caius College, Cambridge. During his entire adult life George's hobby was to read the antique works in their original languages. He was fluent in Greek, Latin, Hebrew and Arabic. His choice of profession, however, was medicine. No previous member of the Still family had been a physician.
George attended medical school at Cambridge University. After graduation in 1893 he worked as a House Physician in Guy's Hospital for six months with James Frederic Goodhart, who had an interest in paediatrics. Due to Goodhart's recommendations, Still gained experience later at Shadwell's Children's Hospital and at the Waterloo Hospital for Women and Children. In 1894, George won a scholarship of the Royal College of Physicians and achieved a post as clinical assistant at Great Ormond Street Children's Hospital. His salary was only Z20 a year, and he had no private income, so Still's early period of his career were years of poverty. Sometimes, his living quarters were so cold that he had to keep warm by walking around and he was often short of food. It has been described how he once attached the soles to his shoes by the laces — unable to afford new soles. Still's only effort was to see that cod liver oil was available at low cost.
In 1894, he published his two papers, on pyrexia and the diptheria antitoxin. In 1895 he moved to a children's' hospital in Cambridge, where he became medical registrar and pathologist for four years. In 1897, he published his doctoral thesis describing a form of childhood febrile arthritis today known as Still's disease. In 1899, he was made permanent staff member at Great Ormond Street and was appointed physician for diseases of children to King's College Hospital, London (the first hospital with a medical school to establish a section for children). In 1902 he presented a series of three lectures on 4th, 6!h and 11th March to the Royal Society of Medicine in London, under "Goulstonian lectures" on 'some abnormal psychical conditions in children', which were published later the same year in the Lancet. He described 43 children from his practice who were often aggressive, defiant, resistant to discipline, excessively emotional or passionate, who showed little inhibitory volition, had serious problems with sustained attention and could not learn from the consequences of their actions; though their intellect was normal. In 1905, he collaborated with Sir J Goodhart, his previous chief, as editor of "Diseases of Children". In 1906 he became the first professor of diseases of children at children's hospital Cambridge and the first chair of paediatrics in England. In 1909 he published his own textbook "Common Diseases of Children" based on the lectures he gave at Great Ormond Street and King's. He also wrote on congenital hypertrophy of the pylorus in "The System of Medicine", a textbook.
Although first described by S J Gee in 1888, it was Still's descriptions and lectures which brought it to the attention of the English medical profession. He was made a permanent member of the staff at Great Ormond Street in 1899, at the same time being appointed professor of diseases of children at King's College Hospital, the first person in Britain to bear that title.
When he retired from King's College in 1933 having being an active physician there for 34 years, he was president of The First International Paediatric Congress in London,
Still built up a thriving private practice. His waiting room in an old house in Queen Anne Street had a great number of toys to help amuse the young people waiting their turn to see him. He was probably one of the most popular paediatricians in London, so that almost every sick child of well-to-do parents had seen him at one time or another. This made him financially secure, and he frequently treated patients for free, whose families could not afford to pay. He was knighted upon his retirement in 1937 for having been the personal physician to princesses Elizabeth and Margaret. He had been chairman of the National Society for the Prevention of Infant Mortality for 20 years. After retirement Still moved to Salisbury, Wiltshire. Here he cultivated his passion for fly-fishing and taught English language and literature at the Salisbury Cathedral School. The year he died, 1941, he published a volume of poems. Still was an extremely good-looking bachelor who lived for little else but his work, and even in his younger days displayed no interest in the social side of life. As he grew older, he returned more to his early love of the Classics and on the centenary of King's College Medical School, wrote a Latin verse, which was set to music and sung during the commemoration. His lack of interest in the sporting sides of life in youth, however, was later compensated for by his enthusiasm for fly-fishing.
Sir Still gave his life to paediatrics. He wrote prolifically on childhood diseases and was secretary to the Children's Clinical Club (an informal gathering of paediatricians that grew into the British Paediatric Association, of which he was the first president). Prof Still was a cultured and reserved man but was shy and awkward with adults. His life was dedicated to improve the life chances of sick children, and especially to the patients at Great Ormond Street.
Few medical terms after Sir George Stlll's names are: Felty's syndrome
(atypical form of rheumatoid arthritis with fever, splenomegaly and leukopenia and, in some cases, anaemia and thrombocytopenia. An adult form of Still's disease or syndrome), Still's disease (a form of juvenile idiopathic arthritis, which may cause joint or connective tissue damage and visceral lesions throughout the body), S/i//'s mormor (early systolic murmur heard near the left sternal edge in children and young adolescents) and Still's rash (a rash seen in the majority of patients with Still's disease).